The mind never lies…
In a near-future Tokyo, detective Kaname Date is on the case of a mysterious serial killer. Date must investigate crime scenes as well as dreams on the hunt for clues. From the mind of Kotaro Uchikoshi (Zero Escape series director), with character design by the Yusuke Kozaki (No More Heroes, Fire Emblem series), a thrilling neonoir detective adventure is about to unfold.
AI: THE SOMNIUM FILES (AI:ソムニウムファイル, AI: Somuniumu fairu) is a mystery adventure game written and directed by Kotaro Uchikoshi, co-directed and designed by Akira Okada, produced by Yasuhiro Iizuka, and developed by Spike Chunsoft for the Nintendo Switch, Playstation 4, and PC via Steam. It is also published by Spike Chunsoft in North America and Japan, by Numskull Games in Europe and Australia[1], and by SEGA in Taiwan.[2] The characters were designed by Yūsuke Kozaki and the soundtrack was composed by Keisuke Itō. It launched on September 17 (NA Digitally), September 19th (JP/Asia), September 20th (EU/AU), and September 24th (NA Physically), 2019 for a price of $59.99 for the Standard Edition, and $89.99 for the Special Agent Edition.[5][3][4]
It was originally revealed at the Game Developer Conference (GDC) on March 2nd, 2017 as PROJECT:psync[6], only featuring a teaser image of a robotic eye. Over a year later, at Anime Expo on July 5th, 2018[7], the game was officially revealed as AI: THE SOMNIUM FILES at the Spike Chunsoft panel, along with the official trailer, and a special message by one of the game's characters, Iris Sagan.
On January 30th, 2019, a new YouTube channel called Lemniscate was created, where Kotaro Uchikoshi introduced the character Iris Sagan as the Net Idol A-set. This started a series of weekly videos created by A-set that took place within the universe of AI, adding new information to the world and acting as a promotional augmented reality game (ARG) for AI: THE SOMNIUM FILES. This lead up to a "planned" special appearance by A-set at GDC 2019, but instead of her appearance, a second trailer was revealed the following day, March 21st. An official release date of July 25th, 2019 was also revealed.[5]
The video series continued through the following weeks, alongside the release of interviews and news articles about the game. A-set announced that she would be featuring world premiere gameplay of AI: THE SOMNIUM FILES for her videos on May 15th, and a Famitsu article detailing gameplay information released that morning (NA time). However, at the same time, Spike Chunsoft announced that the game's release would be delayed to September 17th, 2019 in North America[3], with the Japanese date moved to Sept. 19th and the European date to Sept. 20th.
On May 31st, a new trailer was released for the game, showing off gameplay and story sections, and ending with the announcement of a Day One Edition with special bonuses that would be included in the Special Agent Edition.[8] On July 30th, Spike Chunsoft announced that a special PC version of the Special Agent Edition would be released in collaboration with Limited Run Games, with the first 500 purchases including an Anime Expo exclusive poster and lanyard.[9] On September 5th, Spike Chunsoft announced that, due to heavy demand and manufacturing delays, the physical North American release of AI: THE SOMNIUM FILES was delayed by a week, until the 24th of September, while the digital release remained the same.[10] On September 17th, the game was released, first on digital in North America, and followed by the subsequent release dates for all other versions and regions. On October 24th, a Demo for the game was released in North America on Playstation 4 and Nintendo Switch.
Two years later, on June 30th 2021, after a short promotional campaign for #NineEyesTV, a sequel to the game was announced, called AI: THE SOMNIUM FILES - nirvanA Initiative for Nintendo Switch, PlayStation 4, Xbox Series X/S, Xbox One, and Steam, planned to release in Spring 2022. A few months later, AI: THE SOMNIUM FILES was released for Xbox Game Pass, playable for Xbox Series X/S, Xbox One, and PC, in preparation for the sequel's release.
Story
[
]
One rainy night in November, a woman's body is found at an abandoned theme park, mounted on a merry-go-round horse. She had been stabbed repeatedly, and her left eye was gouged out.
Kaname Date of the Metropolitan Police Department arrives on the scene. He recognizes the woman. Suddenly, he hears a noise from inside the merry-go-round.
He breaks into the merry-go-round's central column to find a young girl. And in her hands, she grips a bloody ice pick...[5]
Chapters
[
]
The game is divided into different chapters, categorized under a "Day". Each "Day" contains up to 4 chapters, typically including one Somnium. The events of each "Day" change depending on the choices made in previous chapters and the current branch of the story. There are 44 chapters in the game, and between 14 to 18 chapters in a given route. The game's chapters are listed below, split into their respective routes:
Characters
[
]
Unlike previous works by Kotaro Uchikoshi (which generally feature a large ensemble cast with only a few minor characters), Ai: THE SOMNIUM FILES features a tighter main cast of 7 characters, and around 21 minor characters, all designed by Yūsuke Kozaki.
The main cast consists of the members of the Advanced Brain Investigation Squad, who investigate the serial killings, and three youths central to the mystery:

Aiba/AI-Ball (VA: Erika Harlacher EN; Akari Kito JP): the secondary playable character of AI: THE SOMNIUM FILES. Aiba is an autonomous artificial intelligence. She usually takes the shape of an eyeball and resides in Date's left eye socket. However, she takes on the form of a young woman in Somnia and appears as a small animal when outside Date's eye socket. Her mind is linked to Date's through a neural connection.
Iris Sagan (VA: Jackie Lastra EN; Nao Shiraki JP): An 18-year-old internet idol. She has a bright and cheerful personality with a strong sense of curiosity and a tendency to be fearless. She's made a name for herself on video streaming sites and social media. Her idol name is A-set, but her biggest fans call her Tesa (Aseton in the Japanese continuity).[11] She is the protagonist of her Lemniscate video series, which seems to have strange ties to the game. Her channel exists in real life in the form of two YouTube channels (English and Japanese).

The secondary supporting cast for the game includes:
Minor characters who are mentioned or make occasional appearances include:
Takero Matsushita: Ota's father. Over 30 years ago, he and his wife took out significant loans to open Matsushita Diner near the Kabasaki District.
Manaka Iwai: A longtime friend of Hitomi Sagan and Renju Okiura from their high school days. Passed away soon after graduating from school.
Saito Sejima: The estranged son of So Sejima, a representative for a non-profit organization. Touring out overseas during the events of the story.
Inmate #89 (VA: D.C. Douglas EN[16]; unknown JP): An unnamed inmate at Fuchu Prison imprisoned for multiple counts of murder. His identity and nationality are unknown.
The Bodyguards: A team of bodyguards hired by So Sejima to protect him from harm and outside interference.
Yakuza A: One of the Yakuza goons who works directly for Moma Kumakura. He once had dreams of pursuing the top spot in the gang, but since decided that he would rather focus on training his favourite dog.
Yakuza B: Another one of the Yakuza goons who works directly for Moma Kumakura. Perhaps due to the way he looks, he is often mistaken for a low-ranking member even though he is toward the top. He typically does office work. He has recently fallen in love and lost a lot of weight.
Nurse: A nurse who works at both Central Hospital and with small group of actors. She practices hard, even though she has yet to land a leading role.
Receptionist (VA: Reba Buhr EN[17]; unknown JP): The receptionist at the Lemniscate Entertainment Offices. She likes men that are real bros and can vibe with them from the jump. Lately, her shoulders have been stiffening up on her, though. Date constantly flirts with her.
Mermaid (VA: Faye Mata EN[18]; unknown JP): A maid who works at the Sunfish Pocket maid cafe.[19][20] She is close friends with Iris, Mizuki, and Ota.
Taxi Driver: A taxi driver who specializes in driving celebrities and entertainers. He has a special relationship with Lemniscate and often drives their talent.
Inspector (VA: Brad Venable EN[21]; unknown JP): An inspector Date comes across constantly throughout his investigations, but can never remember his name.
Gameplay
[
]
Throughout the game, you play as Kaname Date as he explores Tokyo in search of clues, witnesses, and suspects. The gameplay is split between investigation in the real world and investigation of dream worlds, or Somnia.
In real-world investigations, the player controls Date in a first-person adventure style to search for clues and gain testimony. Moving the cursor to select objects and people allows you to select and further interact with them. Aiba's unique functions, including Zoom, X-ray, and Thermo, allow for additional detailed examination of the environment. Some action sequences may include quick time events to escape danger.
In dream world investigations, the player controls Aiba in a third-person style to complete a variety of puzzles. Each Somnium represents a dream of one of the game's characters, so the puzzles and their solutions may vary greatly. Each puzzle has a time limit of 6 minutes, and interacting with objects will consume a set amount of time. Taking different actions may cause the story to branch in different directions, but running out of time will result in a game over.
Editions
[
]
The game released in three separate editions: a Standard Edition, a Day One Edition, and a Special Agent Edition:
Standard Edition
[
]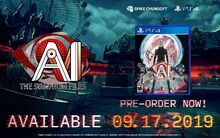 The Standard Edition is the version of the game that is sold in all available regions. It is sold at the starting price of $59.99 USD, the standard price for all console video games. It comes with the game itself within the standard box, featuring the normal cover art by Yūsuke Kozaki. This version is available on Nintendo Switch, Playstation 4, and (digital only) Steam. It released on September 17th, 2019 (North America, digital), September 19th, 2019 (Japan), and September 20th, 2019 (Europe and Australia). The physical release of the game in NA was delayed until September 24th, 2019. This is the only version available in Japan, but as a pre-order bonus, buyers also obtained the REVERIES IN THE RaiN Soundtrack and a Switch cleaning cloth (for the Nintendo Switch edition via Amazon).
Day One Edition
[
]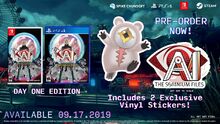 The Day One Edition is a special limited time issue of the game that released on September 24th, 2019 (NA only) for Nintendo Switch and Playstation 4, a week after the digital launch date, like the other NA physical editions' delays. It is virtually identical to the Standard Edition, but with two changes: a slightly altered "Day One Edition" version of the cover, and two special vinyl stickers. The two vinyl stickers are of AI-Ball in her mascot form and the logo for AI: THE SOMNIUM FILES.
Japan, Europe, and Australia did not feature a Day One Edition when the game was released. However, the bonus content in the Day One Edition is still featured in the EU/AU versions of the Special Agent Edition.[22]
Special Agent Edition
[
]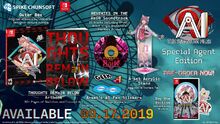 The Special Agent Edition is an upgraded edition of the game, featuring many bonus materials and collectibles for the game. It is sold at $89.99 USD in North America, Europe, and Australia. Like the Day One Edition, this edition was normally only sold for the Nintendo Switch and the Playstation 4, since it includes a physical copy of the game, on September 24th, 2019 (NA) and September 20th, 2019 (EU/AU)[22], like the other two editions. However, Limited Run Games sold a special Limited version of the Special Agents Edition for Steam (PC).[23]
The Special Agent Edition comes with:
An outer box featuring an original box artwork design by Yūsuke Kozaki
AI: THE SOMNIUM FILES Day One Edition (NA's PS4 and Switch versions only)

AI: THE SOMNIUM FILES-themed stickers: 2 vinyl stickers:

The logo for AI: THE SOMNIUM FILES
Character art of AI-Ball in her mascot form

AI: THE SOMNIUM FILES Standard Edition (EU/AU's PS4 and Switch versions only[22])

AI: THE SOMNIUM FILES-themed stickers from NA's Day One Edition included:

The logo for AI: THE SOMNIUM FILES
Character art of AI-Ball in her mascot form

AI: THE SOMNIUM FILES Steam Code card (Limited Run Games only)
THOUGHTS REMaiN BELOW Artbook: 30+ pages of sketches and concept art
REVERIES IN THE RaiN Soundtrack: soundtrack featuring 39 tracks from AI: THE SOMNIUM FILES
An A-set Acrylic Stand: standing at around 6 inches tall
A-set's #1 Fan Stickers: 3 vinyl stickers, based off the ones Ota Matsushita has on his laptop

The "A" logo from A-set
The GEEK logo from Ota's shirt
The Lemniscate logo

Anime Expo

 exclusive AI: THE SOMNIUM FILES lanyard (Limited Run Games only, first 500 orders)
Anime Expo exclusive AI: THE SOMNIUM FILES poster (Limited Run Games only, first 500 orders)
Full Summary
[
]
On a Friday night in November, Kaname Date is called to a murder scene at Bloom Park in the quarantined Kabasaki District, where Shoko Nadami's corpse is found tied to a merry-go-round horse with her left eye removed. Searching the area, Date finds Shoko's daughter, Mizuki Okiura, in the merry-go-round's central column, clutching the murder weapon and suffering from aphonia. As he rests in Mizuki's hospital room overnight, Date falls asleep and sees a dream constructed out of his memories from before he had amnesia, 6 years ago. In his dream, he sees a woman shot and bleeding on the floor, and a man holding a gun standing beside her.
On Saturday, Aiba investigates the anonymous phone call made to the police about the scene, and identifies the caller as Ota Matsushita. Date eventually finds Ota in the lobby of Lemniscate, a talent company run by Renju Okiura: Date's friend, Mizuki's father, and Shoko's ex-husband. As Date learns about Ota and Mizuki's discovery of the crime, the net idol A-set (real name Iris Sagan) appears, who, after some coercion and blackmail, manages to tag along with Date in his investigation. The pair reinvestigate Bloom Park. Date takes Iris home, meeting her mother, Hitomi Sagan, the woman he saw in his dream. Meanwhile, Investigation HQ receives a phone call from a inmate simply labeled #89, claiming that he knows who killed Shoko Nadami, and that the killer will strike again. Later that day, Boss tells Date to Psync with Mizuki to learn more about what happened and hopefully cure her aphonia.
Depending on choices made in Mizuki's Somnium, the game branches off in two major directions, labeled as A and B.
Within the B story of the Somnium, Date and Aiba find the frozen corpse of Iris underneath the merry-go-round and learn about a phone ringing in the area during the time of the crime. This action, while leaving Mizuki uncured, gives Date the information to look for a phone at Bloom Park at night, where he finds that an unknown caller was the last person to try and contact the phone. Date also contacts Iris to not leave her house in fear of the corpse he found inside Mizuki's Somnium.
However, in the A story of the Somnium, no frozen corpse was found, and instead the silhouette of the killer is seen in the outskirts of the park. With a cured Mizuki, they investigate Bloom Park again at night and discovers surveillance footage of Renju's car in the area. When they search for him, they head to his maid cafè, Sunfish Pocket, and they find Renju's corpse inside, with his left eye missing.
Branch A
[
]
In Branch A of Mizuki's Somnium, on Sunday, the Shoko case evolves into the "New Cyclops Serial Killings" case, named after a similar case from 6 years prior. The murders are linked to a Yakuza gang known as the Kumakura Family, whom Date learns are affiliated with a congressman named So Sejima. Iris Sagan is named a suspect, as she was witnessed with Renju in Akihabara the night he died, near Sunfish Pocket. As Iris begins withholding information, Date finds out she was keeping a secret with Ota, and decides to Psync into her Somnium. In Branch A of Iris's Somnium, Date does not find any meaningful clues aside from a possible connection to Congressman So, and he is forced to release her.
Date drops off Iris at Matsushita Diner, run by Ota's family, where Ota knocks him unconscious and takes Iris with him by car. Driving from Central Tokyo to Fuchu City, Ota stops at a FamiSto convenience store, where his car is stolen by an unknown individual, with Iris (and Ota's phone) inside. Ota chases after his car, and using his phone's GPS, finds their location. On Monday, past midnight, as Date wakes up, the serial killer begins a livestream showing Iris laid on a table inside the Okiura Fishery Cold Storage Warehouse at Ariake, with her left eye missing and a saw-blade above her. The killer, dressed in a polar bear costume, starts the saw-blade machine, but is foiled by Ota, who arrived at the scene just in time. Once Date arrives, the killer had already fled, leaving a wounded Ota and an unconscious Iris. In the morning, Date begins investigating the warehouse, and interrogates So Sejima –about Iris's Somnium–, Mizuki –about the Okiura Fishery warehouse–, and Mayumi (Ota's mother) and Hitomi –about the status of their children–.. While most yielded nothing new to the case, Date learns about Mayumi's dementia and of the death of Hitomi's childhood friend, Manaka Iwai. They eventually interrogate Ota about the events of last night, and he also confesses to the secret he and Iris hide: Iris was seen driving without a license around Akihabra, close to the time Renju's body was left at Sunfish Pocket. When Date discovers a hidden weapon Ota was keeping on his person, Boss coerces him to Psync into Ota's mind and learn what he remembers of the event.
In Branch A of Ota's Somnium, Date and Aiba learn that Ota was stabbed with his mother's kitchen knife. When they visit her to ask about the knife, Mayumi confesses to the crime. On Tuesday, Date continues his investigation, believing Mayumi has given a false confession to protect her son, and learns about what she was doing the night of the livestream. When Ota and Iris left the Diner in their car Sunday night, Mayumi took a taxi to follow the car around the city; after the kidnapping at the convenience store, the taxi followed the car to So Sejima's mansion, then followed it up to the edge of the restricted Kabasaki District, and then followed them to the Okiura Fishery warehouse. When Date visits the Sejima residence to interrogate So about his late-night visit on Sunday, he finds the congressman's body dismembered and with his left eye missing. Despite this, Date proceeds to Psync with Mayumi, uncovering her lost memories due to her dementia and learning of the Matsushita family's past. After the Psync, Mayumi recants her confession, stating she was afraid the man in the polar bear costume she saw was her son. Later that night, Aiba reveals new clues she found: video footage of Iris stealing the kitchen knife herself, and Shoko's eyeball located in Renju's stomach. This concludes the Ota Route.
In Branch B of Ota's Somnium, Date and Aiba learn that the killer was wounded in the leg, leaving a bloodstain in the warehouse. The following day, on Tuesday, Date takes Mizuki along as they investigate the wounded killer's identity, and they inform a CSI agent to speed up the blood analysis at the scene. While Mizuki is being questioned by Investigation HQ, Date receives the blood results, only to spots a wounded So Sejima fleeing the crime scene. Date has Pewter compare the blood to So's DNA, giving a match, confirming So as the new Cyclops Killer. Date and Mizuki break into the Sejima Residence, defeating the various bodyguards stationed there, and ultimately results in the death of both So Sejima and Aiba, while Date is comatose from his eye injury where Aiba was killed. On Wednesday, Boss asks Mizuki to Psync with Date, and once she does, he wakes up from his coma. A few days later, Date, Mizuki, and Aiba (restored from a saved backup) visit the Ikume Shrine, where they discuss the now-closed Cyclops case, as well as how Mizuki's homeroom teacher was seen speaking with So Sejima. This concludes the Mizuki Route.
In Branch B of Iris's Somnium, Date learns that Iris has knowledge of the Original Cyclops Serial Killings case from 6 years ago, down to the last detail, and sees his own face in the killer's reflection. Despite the strange Somnium, ABIS is unable to hold Iris for the new murders, and Date releases her. From here, a similar set of events occur as the other branch, with Ota taking Iris to Fuchu City and ending with the livestream video; however, Date is instead attacked at a bar named Marble within Shinjuku District, placing him farther away from the crime scene, and without Mayumi's interference (as she was resting at her diner), it ultimately results in Date arriving too late to save Iris or Ota, as they are both killed by the New Cyclops Killer. On Monday, with no real leads on the investigation, Pewter tells Date about the identity of the Original Cyclops Killers: an unnamed psychopath and Rohan Kumakura, the latter being the former leader of the Kumakuras. With one of them (Rohan) dead from suicide a year prior, Pewter reveals the other culprit to be Inmate #89, who made the phone call to Investigation HQ on Saturday. Date brings #89 to HQ, who looks like the man from his dream on Friday night, and interrogates him. #89 begins recounting a story to Date:
Six years prior to the game's events, a detective began killing criminals whom he deemed deserved to be punished for their crimes, with the police covering his actions up. Rohan discovered these murders and forced the detective to work as an assassin for the Kumakura Family, giving him the codename "Falco." During one of these jobs, he was chased after taking a bullet to the stomach, escaping and collapsing at Ikume Shine. There, he met a woman who nursed him back to health, and the pair started a relationship. #89 refuses to continue his story unless Date guarantees his release, so Date decides to Psync with him. He discovers that the woman was Hitomi Sagan, Iris's mother, and that Rohan Kumakura, with assistance from Boss, broke into Hitomi's home to kill Falco (#89). Hitomi protected Falco, receiving a bullet wound to her right shoulder, severing the nerves in her right arm. After the Psync, Pewter reports that So Sejima's body was discovered. When Date searches for Boss to question her about the memory he saw, he finds a video showcasing Boss shooting So Sejima in the head, with his left eye already missing. This event concludes in a Story Lock for the Annihilation Route that must be unlocked through other routes.
Branch B
[
]
In Branch B of Mizuki's Somnium, on Sunday, Date learns that Renju was in a car accident the previous night, and decides to visit him at Central Hospital. However, a hospital nurse tells him that Renju had escape overnight, and Date searches for him at Sunfish Pocket. There, he runs into Ota and learns that, during a livestream last night, A-set was visited by an unknown individual, and was never heard from since. Date heads home to find Hitomi, who tells him that she is Mizuki's homeroom teacher and that she inadvertently healed Mizuki's aphonia overnight. Date also meets with the Kumakura gang, and learns that its current leader, Moma Kumakura, is an A-set fan. He makes a deal to introduce Moma to A-set if he gains any information on Renju's whereabouts. At sunset, Aiba manages to get in contact with the mysterious caller to the cell phone found at Bloom Park, and learns their identity is Congressman So Sejima. Following So from his mansion, Date and Aiba see So leave the Okiura Fishery warehouse. Aiba runs out of battery as Date heads inside to find the frozen corpse of Iris Sagan, appearing the same as it had in Mizuki's Somnium. So is brought in for questioning, and Date Psyncs with him. In So's Somnium, Date witnesses a figure murder Iris Sagan near the warehouses. Date saves the dream-world version of Iris during the Psync, and once outside the Somnium, he receives a call from the first response team stating that no body was found at the warehouse. Shocked, Date rushes to the Sagan Residence and finds Iris alive and well, hanging out with Mizuki.
On Monday, a debate begins amongst ABIS members, where Date and Boss believe that his actions in Somnium changed the world and saved Iris, and Aiba (who did not witness Iris's body) believes that Date simply hallucinated her body. Investigating further, they learn of a phone call from Inmate #89 to So Sejima, about Hitomi's past with Iris and her old boyfriend, and Iris also makes Date promise to go on a date with her later that afternoon. With #89, codenamed "Falco," transferred to HQ, Date begins interrogating him, but #89 knocks Date unconscious and takes Pewter hostage until he escapes the building, with Renju Okiura as his getaway driver. After #89's escape, Moma informs Date of a lead as to where Renju is, and he continues investigating while also acting as Iris's "date." They learned from a maid that on the previous day, Sunday, Renju was seen looking for Iris around Sunfish Pocket. The two also meet with Ota and discuss Date's phenomenon with Iris's dead body, wondering if this was caused by a change in parallel worlds. Iris also talks about her "Uncle," her mom's old boyfriend who she hasn't seen in 6 years, and has been searching for ever since. As Date and Iris are about to meet with Mama and one of Renju's acquaintances, they are attacked by mercenaries attempting to kidnap Iris. They escape and rest within Date's home, where Iris reveals she's being hunted down by a secret organization known as NAIXATLOZ trying to take over the world using the Wadjet System. Date believes in her while Aiba is skeptical, and the two decide to Psync with Iris in secret, to learn if she's telling the truth.
In Branch A of Iris's Somnium, Date believes in Iris wholeheartedly and acts as her bodyguard. The following day, Tuesday, Date and Iris begin investigating NAIXATLOZ and their connection to Renju, where Date learns more about Iris's "Uncle," and the pair discover Hitomi privately speaking with So Sejima. They eventually learn from Mama that the person that she was going to introduce to Date last night was actually Pewter, who is Renju's current boyfriend. They find Pewter and interrogate him, learning that Pewter has been leaking information on the case to Renju, orchestrated #89's escape on behalf of Renju's wishes, and ordered the mercenaries to kidnap Iris. Pewter controls Aiba to shock Date, then kidnaps Iris and takes her to the Okiura Fishery warehouse. Date and Aiba, with assistance from Moma, Ota, and Mizuki, perform a rescue operation for Iris, taking her away from Pewter's clutches. Date speaks with Iris about her "Uncle" again, and she states that she only knew him by the nickname "Falco," the same nickname as the escaped #89. She also reveals that the late night visitor she had was actually Renju, who tried to take her to an abandoned factory in the Kabasaki District, but she managed to escape. The two visit the factory and discover a prototype Psync Machine. Iris suddenly collapses due to abnormal brain failure, and Date decides to Psync with her to save her life just as he believed he did in So's Somnium. However, despite his best attempts, Iris succumbs and dies to her sudden collapse, with her last thoughts wondering if Date was actually the person she was looking for this whole time. This concludes the Iris Route.
In Branch B of Iris's Somnium, Date and Aiba do not believe in Iris's words about NAIXATLOZ, and decide to leave her with Ota and Mizuki while they continue to investigate. On Tuesday past midnight, Date meets with Hitomi, and the two discuss Iris's delusions, wherein Hitomi reveals that Iris has a malignant Grade-IV brain tumor and only has a month to live, at most. The brain tumor caused the various delusions Iris had, as well as other side effects she was experiencing. Suddenly, Date receives a phone call from Mizuki, stating that Iris had gone missing, looking for "the person I trust most." Date, Mizuki, and Ota begin searching for her, and eventually Date arrives at the Okiura Fishery warehouse, where, inside a frozen forklift, finds the frozen body of Iris Sagan. This event concludes in a Story Lock for the Resolution Route that must be unlocked through other routes.
The Final Routes
[
]
If the Ota Route, Mizuki Route, and Iris Route are completed, the Story Lock in Resolution Route is opened. On Tuesday morning, as Date grieves over Iris's death, Aiba begins to rationally question the events of this case, and the two discover that the body is in fact not Iris Sagan, but an unnamed woman who passed away over 10 years ago. When questioning So Sejima yields no results, they speak with Mizuki, and they learn that, a month prior, Mizuki followed her father Renju to the Okiura Fishery warehouse, which he owns, and found the woman's body inside the forklift. Aiba searches the missing persons database and finds a matching case: Manaka Iwai, who disappeared 18 years ago, and whose name Date recognizes from a lost memory with Hitomi. Date interrogates Hitomi about Manaka's death, believing that she and Renju killed her, and with no responses, Date decides to Psync into her mind. Before he dives in, however, Boss and Pewter tell Date about the reason for the six minute limit in Somnia: spending too long in a Somnium can cause the consciousness and memories of both the Psyncer and the Subject to switch, causing them to change bodies. Date soon Psyncs with Hitomi, and once it's done, she tells him the story as partially witnessed in her Somnium:
Eighteen years prior to the game's events, Manaka Iwai was the mistress of Congressman So Sejima, eventually giving birth to a baby girl. After meeting with him at the warehouses, Manaka was repeatedly stabbed in the back by So's psychopathic son, Saito Sejima, and was buried by Rohan and the Kumakuras. Following a GPS tracker, Renju and Hitomi found Manaka's body and the Kumakuras in the Okutama Mountains, where they witnessed Rohan take out Manaka's right eye. They were able to dig up her corpse shortly after, and decided to keep her body frozen in the Okiura Fishery warehouse, which Renju soon took ownership of and managed for the next 18 years. Manaka's baby was raised by Hitomi, who eventually grew up and became Iris Sagan. Iris's brain tumor had been identified at the beginning of the present year, and could be treated with a procedure involving nanomachines. However, this treatment was too expensive for Hitomi to afford. When Iris's symptoms began to worsen, she decided to blackmail So Sejima for money on Sunday, using Manaka's frozen corpse as leverage. Before she could place the body back in the forklift, Date arrived, leading to the confusion between Manaka and Iris. With the truth revealed, Pewter appears under orders from the MPD and So Sejima to close the investigation on Manaka's murder, but Date and Hitomi manage to escape and head to an abandoned factory, where a kidnapper had told Hitomi to head to in order to save Iris. As they arrive, Date seems to recognize the factory, and learns that Aiba's backup data and memories are being deleted by Pewter. Once inside, they find the prototype Psync Machine and Renju's dead body, and suddenly #89, knocking Date unconscious. This event concludes in a second Story Lock for the Resolution Route and opens the Story Lock in the Annihilation Route.
Back in the Annihilation Route, on Tuesday past midnight, Date and Aiba suspect Boss for the murders of Shoko Nadami, Renju Okiura, Iris Sagan, Ota Matsushita, and the recently discovered So Sejima. Tracking her GPS, they head to the Sagan Residence, only to discover it was a trap set by Boss and the MPD's Special Assault Team. The pair manage to knock them all out, injuring Boss's leg and shoulder, and they take her back to ABIS to Psync. With Pewter's help, Date Psyncs into Boss's Somnium, and witnesses all the Cyclops murders laid out in order, but committed by the victims that followed: Shoko killed by Renju, Renju killed by Iris, Iris killed by So, and So killed by Boss. After the Psync, Date declares that the person he is interrogating is not Boss, but rather an unknown individual who used the hidden feature in the prototype Psync Machine, found in the abandoned factory, to swap bodies with their victims, killing the previous host after transferring.
The person reveals themselves as Saito Sejima, the psychopathic son of So Sejima, and he recounts to Date his actions over the week. On Friday afternoon, Saito (in the body of Shoko Nadami) swapped bodies with Renju and killed him within Shoko's body, displaying him in Bloom Park and calling Mizuki to the park and find the body. On Saturday, Saito abducted Iris in front of Sunfish Pocket, unknowingly witnessed by Ota, and then swapped bodies and killed her within Renju's body. On Sunday, Saito was taken to HQ for interrogation as "Iris," and was Psynced, but after being released, he coerced Ota to "abduct" "A-set." That night, Saito stole Ota's car when they stopped at the FamiSto store, and then abducted his father So Sejima, where he swapped bodies with him. On Monday morning, Saito took the unconscious So (inside Iris's body) and killed him during the livestream, then killed Ota for continually interrupting the livestream and his past plans. On Monday noon, Saito (in So's body) summoned Boss to the Sejima mansion, took her to the factory, swapped with her, and killed her in So's body. After he explained the events of the last 5 days, Saito then reveals that he lived inside Rohan Kumakura's body for 5 years until he swapped with Shoko Nadami a year ago, who, in horror, accidentally fell off the roof of the factory and died. Then Saito reveals a triangle body swap scenario, in which Date resides in Saito's original body, Saito used to reside in Rohan's body, and that Rohan is actually still alive and resides in #89/Falco's body, which is Date's real identity. Suddenly, Pewter bursts into the room, and reveals a livestream showing Hitomi strapped to bombs, and Saito promises to give her location if Date swaps bodies with him. Date agrees, and they Psync for more than 6 minutes. Saito, now in his original body, tells Date, in the body of Boss, the location where Hitomi is held, but it's too late, as the bomb explodes live on the computer. Aiba shocks Saito unconscious, but Date loses his will to fight; as a familiar voice rings in his head talking about parallel worlds, he wonders if there's another world out there with a better outcome. This concludes the Annihilation Route and opens the second and final Story Lock in the Resolution Route.
Back at the Resolution Route, on Wednesday past midnight, Date wakes up strapped into the prototype Psync Machine, and realizes that the #89/Falco that sits in front of him is actually Saito Sejima, who had been in Renju's body until he swapped with Rohan, inside of #89, and killed him. Saito reveals the events which transpired over the week. On Friday, everything occurred just as Date remembers hearing from Saito in the Annihilation Route. On Saturday, Saito called Iris to meet with her, but, due to Date warning her to not leave the house (after finding "Iris's" body in Mizuki's Somnium), Saito was forced to drive to her home, resulting in a car accident. Just past midnight on Sunday, he escaped the hospital, and as Date remembers hearing from Iris in the Iris Route, he visited Iris and takes her to the factory, but she escapes. On Monday, Saito was in contact with Pewter, who believed it was his boyfriend Renju, and learned of #89's visit to HQ, and just as Date remembers hearing from Pewter in the Iris Route, #89 (Rohan) escaped with Pewter's help and Saito took him to the factory, where they swapped and Rohan died to Renju's injuries. On Tuesday, Saito, inside "Uncle's" body, called Iris with video chat and asked her to meet, wherein he kidnaps her, luring Hitomi and Date to the factory. With all this explained, Saito forcibly Psyncs with Date, exchanging bodies in the process. As Saito celebrates returning to his original body, Date falls unconscious. Back in his original body, his memories prior to six years ago return:
His name was previously Hayato Yagyu, the vigilante detective-turned-assassin known as Falco. Wanting to leave the Kumakuras' service, Rohan had demanded Hayato do one last job: kill Hitomi and Iris due to their connection to Manaka's murder. He confessed to Boss about his job as an assassin, and to help him, suggested swapping bodies with Rohan so he could call the hit off. During the Psync between himself and Rohan, Hayato discovered that the truth of the Original Cyclops Killer: Saito Sejima was the true culprit, as he murdered his victims while Rohan Kumakura removed their right eyeballs posthumously. After the Psync, Rohan, inside Hayato's body, escaped and went to Hitomi's house to kill her, and as Hayato (inside Rohan) arrived to save Hitomi, he inadvertently shot her as she tried defending "Falco". Boss and the police arrested Rohan (inside Hayato), becoming #89. Soon after, Hayato (inside Rohan) met with Saito to get a confession, but Saito saw through the deception and captured Hayato, learning of the Psync technology and the ability to change bodies. Stealing the prototype Psync Machine, Saito swapped bodies with Hayato, taking Rohan's body while Hayato took Saito's. Hayato managed to escape, his memories erased due to forcibly removing himself from the Psync, and was eventually found by Boss. The amnesiac was given the new identity "Kaname Date" and became a member of ABIS, while Saito (inside Rohan) was arrested and hospitalized for the shooting of Hitomi Sagan.
Back in the present, Saito is about to kill Date, when suddenly he is ambushed and chased off by Moma Kumakura, who Aiba had called for help. Following further into the plant with a rifle, Date sees Iris held at gunpoint by Saito, but he is ambushed this time by Mizuki, while Ota rescues Iris. The group chase Saito to the top floor, where he has Hitomi at gunpoint, forcing Date to put down his weapon. Date is called by Aiba, who still resides in Saito's left eye socket and suggests using her self-destruct mechanism, killing both Saito and herself. Reluctantly, Date issues the command, causing Saito's head to explode and saving Hitomi. Mourning Aiba's sacrifice, Date discards his old identity and reaffirms himself as Kaname Date.
Three months later, Iris is recovering from surgery to remove her brain tumors, unknowingly paid for by the MPD, in return for those involved from keeping what they know of the Old and New Cyclops Killers a secret. The official statement given by the police declares that Renju killed Shoko, helped "#89" escape and was killed, and "#89" committed suicide in an explosion, which "injured" Date and required facial reconstruction. After her surgery, Date takes Iris to visit her friends and acquaintances. While talking with Boss, she unexpectedly knocks Date out, as he wakes up in the Psync Room, meeting with the incarcerated Pewter in secret. So Sejima announces he is no longer a politician, and reveals to Date his past secrets involving Manaka's murder and the history behind the abandoned factory. Hitomi and Date begin mending their relationship after years being separated, and all the events that transpired. Mizuki has inherited Lemniscate from Renju, and has been adopted by Date, the latter who recalls their time bonding together in the Mizuki Route. Ota now works multiple jobs to support his mom, Mayumi, who is now on medication for her dementia and has resolved her past animosity towards Iris. Moma has spread his love for A-set to the rest of the Kumakuras, with one of the yakuza revealed to be a mob doctor (implied to have been the one to help Manaka in childbirth) and as the fiancé to the hospital nurse. Date and Iris find one of Sejima's bodyguards drunk at Marble, revealing that he quit working for So, and they speak with Mama, who wonders if the information given about Renju's "crime" was real. Finally, Iris takes Date to the warehouse district where she shows him a surprise: Aiba, back from the dead. She was rebuilt using the Wadjet System, and was implanted by Pewter while Date was unconscious at ABIS. With the two reunited, Iris performs her pop song "Invincible Rainbow Arrow," turning into a group dance with all the other characters. This concludes the Resolution Route, and concludes the full story of the game.
Reception
[
]
AI: THE SOMNIUM FILES received "generally favorable" reviews on Metacritic getting a metascore of 80/100 on PS4[24] and 86/100 on Nintendo Switch.[25]
Videos
[
]
Articles and Interviews
[
]
Here's a list of listed articles and interviews in relation to the game:
Gallery
[
]
Official promotional images for AI: THE SOMNIUM FILES:
First set of images, released in March:
Second set of images, some with unofficial translations:
Third set of images:
Fourth set of images, pulled from the official website's English and Japanese versions:
Fifth set of images released in August:
Trivia
[
]
Etymology
[
]
The word "Somnium" is Latin for "dream," which makes the "Somnium Files" part of the game's title literally translate to "Dream Files".
The AI in the title has five meanings:

AI, pronounced in english as eye: in reference to the consistent "eye" theme within the game, such as Date's artificial eye which houses AI-Ball, and the serial killer's M.O. for removing the left eyes of their victims.
AI, also pronounced as eye, or in this case, I. Refers to the identity of a person in the first-person perspective, what any individual would universally use to refer to themselves.[26]
Ai, the romanization for 愛: the Japanese word for "love," which is said to be a central theme of the story.
When the title AI is flipped upside down (and the dash removed), it makes the roman numeral VI, a reference to the thematic use of the number 6 throughout the game. In the red space in the logo, the numeral VI can also be seen behind the AI in the title.

The game was first announced under the title "PROJECT:psync." While a new title has replaced it since then, the word "PSYNC" still appears in various promotional material for the game, such as the trailer and the official website.[11][27] The name Psync was kept to define the name of the machine that can send people's consciousness into the Somnium.
General
[
]
The game has a consistent number theme with the number 6, as it appears multiple times throughout the game:

The game's logo has the roman numeral VI in the red space behind the word "AI", along with the titled, when flipped upside down, reproduces the numeral VI as well.
The time limit of Somnium dives, limited to a maximum of 6 minutes.
The various events that occurred 6 years prior, such as:
Shoko Nadami was killed 6 hours before her body was found in Bloom Park.
Including Date's Atami Date END, there are 6 labeled endings in the game, with all 6 having an achievement tied to them.
One of A-set videos on her Lemniscate channel, titled "6", has many references:

The title, for one
It is the 6th video (when numbered accordingly) in the series
The video lasts 66 seconds
On the 6th and 18th (6x3) seconds, a visual glitch occurs on-screen

On To-Witter, when the A-set impostor had control of her account, 6 strange to-weets were sent at specific times, where the last digits are always 6. These to-weets were later deleted.
The ages of nearly all the characters are multiples of 6:
In the first trailer and on the main page, a set of keywords can be seen floating in the background. These correlate to various elements and characters revealed in AI: THE SOMNIUM FILES, including:

Cyclops Serial Killings – the name of the murders that occurred 6 years prior, where 4 victims where found dead in Akikawa Valley with their right eyes removed.
Bloody Polar Bear – the culprit of the New Cyclops Serial Killings, who dresses in a polar bear costume during one of their attempted murders.
Advanced Brain Investigation Squad – a special squad at Tokyo Metropolitan Police Department, which is led by Boss and contains 6 different Psyncers, including Kaname Date.
Light Synaptic Nerve Connection Device – the headgear device that connects a Psyncer/Subject to the Psync Machine.
Exciting Voltaic Versatile Gun – Kaname Date's weapon of choice, also known as Evolver. Has a versatile amount of functions, including compatibility with different types of ammunition.
Generalized Amnesia – Kaname Date, who had lost his memories 6 years before the start of the game due to mysterious circumstances.
Abandoned Child – Mizuki Okiura, who was abandoned by her parents to live with Kaname Date.
Chocolate Collector – People who collected the various Odoroki-man Chocolate stickers that came with every bag. Kaname Date, Mizuki Okiura, and Ota Matsushita all used to collect Odoroki-man Chocolate.
Chemical Plant Explosion – an incident that occurred in the Kabasaki District 8 years prior, which closed down the entire district due to the fallout, including Bloom Park
Bullet Wound to the Right Shoulder – Hitomi Sagan's injury, which she sustained during an armed robbery. She lost the ability to use her right arm due to the injury.
Secret Society NAIXATLOZ – a demonic cult that Iris believes is targeting her.
Geostationary Satellite X00639 – A satellite believed to be under construction by NAIXATLOZ.
Wadjet System – the operating system from which all Artificial Intelligence stems from, including AI-Ball.
Prisoner No.89 – a prisoner who was arrested for various crimes committed in the past. Officially named as Inmate #89 in the localized release.
Endorphin Oxitocin – former: hormone that alleviates pain; latter: hormone connected with love. The original Cyclops Serial Killer suffered from an Oxitocin deficiency in their brain.
---one undecipherable phrase---

According to the localization coordinator/editor/producer, Alex Flagg, on Discord, there is a secret hiding in the cover art for AI: THE SOMNIUM FILES. If you look at all the space that the characters and objects take up in the image, it makes the shape of a keyhole. Kaname Date stands in the center of the image, and, as explained in Day 2: Saturday –saikAI–, the kanji used for Kaname, 鍵 (Kagi), translates to "Key." As such, the mystery of the game is a keyhole, and Kaname Date is the "Key" that fits inside.
The end of the first trailer features the phrase "Mark 9:47" in one of its few lasts frames. It's a passage from the New Testament in the Bible, which goes as: "And if your eye causes you to fall into sin, pluck it out. It is better for you to enter the kingdom of God with one eye than to have two eyes and be thrown into hell." This quote ties in with the game's heavy eye theme.
The release dates of the game in America and Japan are both palindromes. The American date (digitally) is September 17, 2019, or 9/17/19, while the Japanese date is Sept. 19, 2019, or 9/19/19. This follows the game's consistent theme in mirrored text and messages.

Sadly, the European date of Sept. 20, 2019, or 9/20/19, is not a palindrome, and neither is the last minute delay of the physical release in NA for Sept. 24, 2019, or 9/24/19.
External Links
[
]
References
[
]