Jurassic World: Dominion Dominates Fandom Wikis - The Loop
Play Sound
Explore reality and dreams alike with this neo-noir detective adventure! Play the Demo today!
The AI: THE SOMNIUM FILES DEMO (AI:ソムニウムファイル 体験版, AI: Somuniumu Fairu Taikenhan, lit. AI: Somnium Files Trial Version) is the digital demo for the game AI: THE SOMNIUM FILES.
It released on October 24th in North America and October 31st in Japan & Asia, available on the Nintendo eShop for the Nintendo Switch and the Playstation Store for the Playstation 4. It was released alongside the Lemniscate video "AI: THE SOMNIUM FILES Let's Play Part 2! Ota is here!!!" The demo covers the first Investigation segment and "first" Somnium segment of the base game.
Story
One rainy night in November, a woman's body is found at an abandoned theme park, mounted on a merry-go-round horse. She had been stabbed repeatedly, and her left eye was gouged out.
Kaname Date of the Metropolitan Police Department arrives on the scene. He recognizes the woman. Suddenly, he hears a noise from inside the merry-go-round.
He breaks into the merry-go-round's central column to find a young girl. And in her hands, she grips a bloody ice pick...
Chapters
The demo goes over two specific chapters of the base game only: a slightly cut-down version of Day 1: Friday "sigAI," and the Somnium level "PSYNCIN' IN THE PaiN." While PSYNCIN' IN THE PaiN is explored in its entirety, the Central Hospital section of "sigAI" is cut in favor of a quick summary of the events of the chapter Day 2: Saturday "saikAI."
Characters
As the Demo only covers 2 chapters of the game, only a handful of characters appear in the Demo version of the game. These characters are:
Videos
The following is a video detailing the unique lines included in the Demo of the game: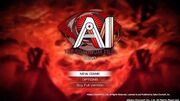 External Links