Warning
This wiki is currently undergoing heavy edits. Spoilers are not fully tagged at this time.
Welcome to the AI: The Somnium Files Wiki
This is the AI: The Somnium Files Wiki. Here we catalog everything related to the universe of AI: The Somnium Files, including the 2019 game AI: The Somnium Files, the A-set YouTube channel, and any news updates online from Twitter accounts and interviews.
Most pages have spoilers marked at designated spots or at the top of pages, but be warned that any page could include spoiler content from AI: The Somnium Files. Pages that don't have any spoilers for the game are the ARG-dedicated pages (archives, episodes, etc.) and our Somnia guides (these include spoilers for content featured before each level).
What is "AI: The Somnium Files"?
AI ["eye"]: The Somnium Files is a mystery-adventure puzzle game/visual novel hybrid developed by Spike Chunsoft and directed by Kotaro Uchikoshi, known for his work on the Zero Escape series. The franchise also includes a series of YouTube videos and tweets by the virtual idol A-set, a vlogger and internet personality featured in the game.
For more information on the game and the series as a whole, visit our Frequently Asked Questions page.
Characters
Locations
Latest activity
Affiliates
Zero Escape Wiki:


Death March Club Wiki:


In this wiki, we worship the one true Tesa in all her glory.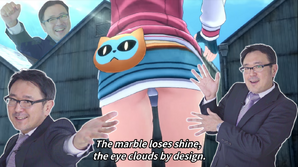 Community content is available under
CC-BY-SA
unless otherwise noted.