Aine Ichirai (壱来 アイネ, Ichirai Aine) is a character in the Hidden Bats ARG. Her primary Twitter account is @Aine_Ichirai and her burner is @PANCAKE_SHOES.
Aine is a high school student who lives in Saitama Prefecture, Japan. Prior to May 6th, 2022, she was kidnapped for a mysterious experiment, where she would be forced to communicate with the outside world every 48 hours to find the necessary clues to escape. Her kidnapping was initially reported by Sunaiku Foundation.
Design
Aine is a young woman with blue eyes and long, waist-length brown hair with purple highlights. Her school uniform includes a white blouse, dark gray cardigan, and patterned black-and-white ribbon, along with a black blazer and pleated skirt with white trim accents. She also carries a pair of blue earbuds, her smartphone, and a school bag with a bear charm and a purple scrunchie hanging from the strap.
Story
In 2020, Aine Ichirai began attending a high school in Saitama Prefecture, Japan. In the following years she also began attending a cram school for supplementary lessons.
On April 5th, 2022, Aine began tweeting about her shoplifting exploits on her burner account @PANCAKE_SHOES. She stole candies and chocolates from a convenience store, and books from a bookstore, and shared the details about her methods and the (lack of) store security. She also seemed to have a general disdain for her "friends" and classmates. On the 9th, Aine complained that going to karaoke five times a week was expensive, but she had her father's credit cards. In the following days, Aine stole valuables from teachers and students at her school, and later tweeted about stealing from clothing stores to resell the items. She also implied that she had been stealing from a friend who complained about losing money.
On the 17th, Aine had a vision of getting caught while she was shoplifting from a department store. She noticed an older woman watching her, and dealt with her by slipping bread into her bag and accusing her of shoplifting. Her final haul was five bags of candy.
Aine began tweeting more about stealing directly from homes and her school: finding house keys, securing entrance routes, and stealing valuables and test answers. On April 30th, Aine broke into someone's home and woke them up. To protect her identity, she hit them on the head with a hammer, expressing no remorse for whether they were dead.
Kidnapping
In the first week of May 2022, Aine left her cram school with her classmates, stopped at a convenience store to buy chocolate, and then mysteriously disappeared. Her disappearance was reported to the authorities on May 6th alongside Binato Sotobara, featured by the Sunaiku Foundation on their official news report. The Foundation began cooperating with the police in resolving her disappearance.
On May 8th of 2022 (Japan time), Aine woke up in an unknown room with only a phone and a box with a numerical buttons. A deadly game began, in which she was given 21 minutes to exclusively use To-Witter and ask for help in opening the box, and once the time had run out she would have to wait 48 hours until the phone activated once more. Through her prepared account, she relayed all the information regarding her apparent kidnapping, but stated that she couldn't remember what happened after obtaining her chocolates. Following these posts, she discovers a piece of paper on the box that said, "Solve the Puzzle". She posted the flipside of the paper on To-Witter, which contained the first code, requesting anyone seeing her posts to help her solve the riddle. But before anyone could answer, her 21 allotted minutes ran out, and Aine was disconnected from outside sources.
Two days later on the 10th, Aine began tweeting again, thanking those who provided her with the solution to her puzzle. She opened the box and posted the clue to the next layer of the box, asking for help once more. Aine also mentioned that she felt sick, the bread she had been provided tasted awful, and she had a nightmare about being run over by a truck. Right before the time limit, Aine learned that Binato was in her same situation, and wished the two of them were able to work together.
On the 12th, Aine announced that she was able to open the box and found yet another box and paper inside. She posted a photo of the next clue, then wondered if Binato was okay. She also said she wanted to give everyone a proper thank-you when she was able to escape—but that she might need a bath first, since she was wearing the same clothes the whole time.
On May 14th, Aine opened the final layer of the box to discover a paper with the word "STALKER" on it, which she posted to Twitter. She also discovered a number of photos in the box. While Aine did not share what was in the photos, they unsettled her, and she wondered what the kidnapper wanted with her as she begged to be let out. After the time limit, Hidden Bats tweeted that there would be an announcement about her fate two days later.
On May 15th, Aine's burner account @PANCAKE_SHOES was exposed by the code inside Binato's locked box.
On the 16th, Aine's account tweeted "Save Aine." According to the rules posted by Hidden Bats, either she or Binato would be saved if their tweet received a higher total of likes and retweets, or both if they tied. Aine's final total was 4 higher than Binato's.
Puzzle Questions
Aine: Question 1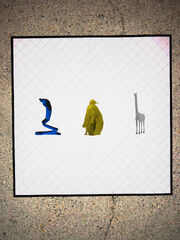 The first clue given for the box were three animal symbols of different colors: a blue snake, a yellow penguin, and a white giraffe. When watching the Bats489 video, the blue snake corresponded to the letter P, the yellow penguin to the letter A, and the white giraffe to the letter N. Inputting the Nirvana Spell "PAN" to the Answer box on the Hidden Bats page revealed the code [778888153] as the solution needed to open the first layer of Aine's box.
Aine: Question 2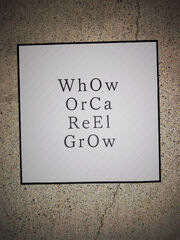 Aine's second clue was a series of letters, each corresponding to a color/animal pair: "WhOw" for white owl, "OrCa" for orange cat, "ReEl" for red elephant, and "GrOw" for green owl. The animals matched letters in the Bats489 video spelling out "CAKE." Inputting this Nirvana Spell on the Hidden Bats page revealed the code [898877634] to open the second layer of Aine's box. The site also revealed the following text:
God speaks in code.

In every generation, God has spoken to the absolute consciousness of the world through "code."
When we are able to correctly decipher the meaning of that code, we decipher the meaning of truth.

I am not God.
I am a mouthpiece, a doer of wills.
I am testing you all through the code that I have retrieved.

Until next time.
Aine: Question 3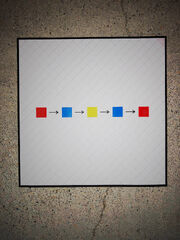 The clue for the third layer of the box was a row of colored squares, with arrows pointing left to right in between. The Nirvana Spell could be found by watching the Bats489 video for a sequence matching those colors (red, blue, yellow, blue, red) to find "SHOES." Inputting this on the Hidden Bats page revealed the code [561761404] to unlock the third layer of Aine's box.
Trivia
Etymology
The first two katakana in Aine's given name, アイネ, are also used when writing out "AI" in katakana for the title of AI: THE SOMNIUM FILES - nirvanA Initiative, as well as certain Somnium prompts that appears in the game.
Aine's family name, 壱来, means "one year". It is currently unclear what this means.
General