Day 3: Sunday -gumAI- (3日目: 日曜日 -愚昧-, 3-Nichi-me: Nichiyōbi -gumAI-, lit. Day 3: Sunday -Stupid-) is a chapter featured in AI: THE SOMNIUM FILES.
It is the eighth chapter of the Annihilation Route. It covers Kaname Date's continued investigation into Iris Sagan's involvement in Renju Okiura's murder.
Case File Synopsis
[
]
In Iris's Somnium, Date saw video footage of four women being murdered. They were the victims of the Original Cyclops Killer. The figure that slaughtered the four women looked like Date. Which means...
Date questioned Iris about this. Despite what was seen in the Somnium, there was not enough evidence to hold Iris and she was released. Date offered her a ride home, and on the way, she asked to stop at Marble. Date agreed and drove her to Marble, where they found Ota waiting. Ota tricked Date and knocked him out with a taser.
Story Summary
[
]
ABIS HQ, Sunday
[
]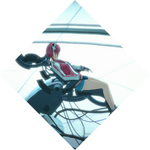 Date discussed what he had seen in the Somnium with Boss and Pewter. They confirmed that he had seen the victims of the Original Cyclops Serial Killings. Date was concerned about why his face appeared in the killer's reflection, but Boss assured him it meant nothing. Pewter told Date he believed there was no link between the Original and New killings, and could not identify the red figure or explain why these events appeared in Iris's Somnium.
Psync Room, Sunday
[
]
Date asked Iris what she knew about the Original Cyclops Serial Killings, but she said she had only heard about them on the news. After questioning her, Boss and Pewter asked Date to take her home, as they did not have enough evidence to hold her.
Driving, Sunday
[
]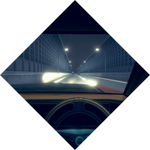 While Date drove Iris back home, Iris asked him to stop at Marble before going home, so she could talk with him about something. Date agreed, and headed towards Marble.
Marble, Sunday 9:41 PM

[

]
Ota was waiting inside Marble. He told Date that Mama had stepped out and asked him to watch the bar. He also explained that he had bought a new phone, and came to Marble when Iris messaged him about going there. When Date asked about "that thing" from his earlier NILE message, Ota knocked Date out with a stun gun, disabling Aiba in the process.
Trivia
[
]
Etymology
[
]
The name gumAI (愚昧) translates to "Stupid," which is in reference to Kaname Date's stupidity over handling Iris Sagan and Ota Matsushita in their attempt to escape police custody.
References to Pop Culture and Media
[
]
During the investigation segment in the Psync Room, examining the "CRT TV" will have Aiba mention that Videodrome will play soon, asking to turn on the TV. Videodrome is a 1983 American horror film, in which the CEO of a television station watches a TV program that shows the horrific murders of several people, eventually brainwashing him. This references has thematic connections to the events of this scene, as Kaname Date just finished experiencing Branch B of the Somnium PSYNCIN' IN THE VaiN, where he witnesses the brutal murders of the 4 Original Cyclops Serial Killing victims displayed on CRT TVs.[1]
[

]
References
[
]