Day 6: Wednesday -hiAI- (6日目:水曜日 -悲哀-, 6-Nichi-me: Suiyōbi -hiAI-, lit. Day 6: Wednesday -Sorrow-) is a chapter featured in AI: THE SOMNIUM FILES.
It is the thirteenth chapter featured in the Mizuki Route. It covers the aftermath of Kaname Date's confrontation with So Sejima.
Case File Synopsis
The surgery was a success. Aiba successfully blocked the bullet from entering Date's brain. But for some reason, Date was not waking up...
Boss told Mizuki that she believed Date was lost somewhere deep in his own mind. To save him, someone had to Psync into his brain and lead him to the exit. Boss explained that Date and Mizuki had a high synchronization rate. She was perfect for the job. So, she agreed to perform the Psync...
Story Summary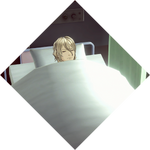 Boss and Mizuki talked about what happened to Date. Mizuki learned about Aiba—she had blocked the bullet from entering Date's brain, so he survived. The surgery to remove the bullet was successful, but Date was still in a comatose state. Boss speculated that it was a result of repeated Psyncing. Boss also assured Mizuki that Date would not be reprimanded for going against orders. While talking to Mizuki, Boss was called to the nurse's station, and Mizuki learned that her real name was Shizue Kuranushi.
Mizuki continued talking to Date after Boss left. She admitted that she thought of Date as a hero to her, and appreciated everything he did for her growing up. She told Date that his presence helped her cope during the trauma of the past week, and begged him to wake up. Eventually, Boss returned, and suggested a way for Mizuki to save Date: Psyncing with him and bringing him back. Mizuki agreed, and headed to ABIS.
ABIS HQ, Psync Room, Wednesday 3:47 PM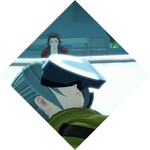 Boss and Pewter helped Mizuki begin the Psync with Date. Just before Psyncing, she promised him she would bring him back.
Trivia
Etymology
The name hiAI (悲哀) translates to "Sorrow," which is in reference to Mizuki Okiura's sorrow over Kaname Date's condition.
References to Media and Pop Culture
The PA announcement tone used at Central Hospital is the same tone used in Zero Escape: Virtue's Last Reward, when an announcement is made during the "Nonary Game: Ambidex Edition." The voice actor who makes these announcements may also be the same across both games. Virtue's Last Reward is a game created by Kotaro Uchikoshi, creator of AI: THE SOMNIUM FILES.