Day 4: Monday -irAI- (4日目: 月曜日 -依頼-, 4-Nichi-me: Getsuyōbi -irAI-, lit. Day 4: Monday -Request-) is a chapter featured in AI: THE SOMNIUM FILES.
It is the eleventh chapter of the Iris Route. It covers the aftermath of Kaname Date's Psync with Iris Sagan.
Case File Synopsis
Date was deeply affected by Iris's Somnium and told her that he believed her story.
Iris asked Date to be her bodyguard, saying that he was the only one she could trust. Date accepted her request and promised to protect her with his life. Aiba, though she disagreed, admitted that her duty was to assist Date.
Story Summary
Driving, Monday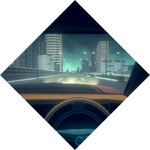 Date apologized to Iris for doubting her about Naixatloz. He promised to fulfill her wish and become her bodyguard. Aiba asked Date if he was delusional, but reluctantly agreed to continue supporting him.
Trivia
Etymology
General
This chapter is the shortest chapter in the game, featuring only one scene, no investigation segments, and a total of 20 lines of dialogue.