Jurassic World: Dominion Dominates Fandom Wikis - The Loop
Play Sound
Day 5: Tuesday -jinnAI- (5日目:火曜日 -塵埃-, 5-Nichi-me: Kayōbi -jinnAI-, lit. Day 5: Tuesday -Dust- or -Dreary World-) is a chapter featured in AI: THE SOMNIUM FILES.
It is the twelfth chapter of the Annihilation Route. It cover's Kaname Date's investigation of Boss's role in the New Cyclops Serial Killings.
Case File Synopsis
If the video was to be believed, Boss killed So. And because So had his left eye taken out, Boss must be the New Cyclops Killer...
Aiba tracked Boss's phone via GPS. Date was lead to Hitomi's house, but it was a trap: Boss arrived with SAT officers and ordered Date arrested for murder. With no time to negotiate, Date and Aiba came up with a plan. They knocked out the SAT officers with a dust explosion, then brought the unconscious Boss back to ABIS HQ for Psyncing.
Story Summary
ABIS HQ, Boss's Office, Tuesday 12:19 AM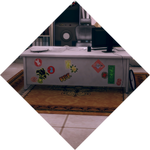 After watching the footage of Boss shooting So Sejima, Date and Aiba discussed the possibility of Boss being the New Cyclops Killer. They determined that she had no known alibi for the previous murders, making it a strong possibility. Shortly after, Aiba traced the location of Boss's phone to the Sagan Residence, and Date hurried after her.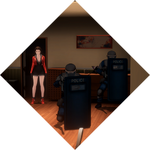 The house was empty when Date arrived, so Aiba called Boss's phone to discover it had been left on the kitchen counter. As Date approached the phone, Boss entered the room along with a number of police officers, cornering him. She accused Date of being the New Cyclops Killer, despite his protests. With no other way out, Date decided to fight. With Aiba's assistance, Date tossed a bag of flour into the air and shot a firebomb bullet through it, causing an explosion.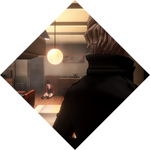 The explosion knocked Boss and the rest of the police force unconscious. Boss's right shoulder and left leg were injured during the explosion, but she was otherwise unharmed, so Date took her back to ABIS to Psync with her.
ABIS HQ, Psync Room, Tuesday 2:31 AM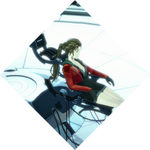 Pewter agreed to help set up the Psync after learning about So's murder, and told Date that #89 was back in prison. Shortly after, Date began the Psync with Boss.
Trivia
Etymology
The name jinnAI (塵埃) can translate to either "Dust" or "Dreary World." For Dust, it is in reference to the dust explosion that Kaname Date initiates against the

SAT

squad. For Dreary World, this is in reference to the state of the story in this particular branch, in which several characters are dead and the villain holds the upper hand against Date.