Day 3: Sunday -kyuusAI- (3日目: 日曜日 -救濟-, 3-Nichi-me: Nichiyōbi -kyūsAI-, lit. Day 3: Sunday -Salvation-) is a chapter featured in AI: THE SOMNIUM FILES.
It is the eighth chapter of the Purple Route. It covers Kaname Date's findings in So Sejima's Somnium, and the disappearance of the body at the warehouse.
Case File Synopsis
[
]
In So's Somnium, Date witnessed Iris being killed by an unknown person. Date and Aiba succeeded in saving Iris from her untimely murder. When they did...
Boss and Pewter both argued that So was the figure who killed Iris in the Somnium. But So insisted that he did not know Iris. During this back-and-forth, Date received a call from one of the officers inspecting the cold storage warehouse. He claimed that there was no body to be found. Date rushed over to see for himself and discovered that, indeed, the body was missing. Thinking quickly, Date headed to the Sagan residence, only to discover Iris staring quizzically at him from the door...
Story Summary
[
]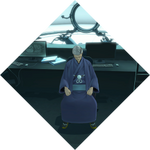 Date discussed So's Somnium with Boss and Pewter. Pewter guessed that the figure that stabbed Iris was likely So. Boss agreed, but it was not certain, and findings in Somnium could not be used as evidence in court regardless. So, confused by the discussion of his Somnium, asked to be released. So continued to deny knowing Iris, and would not explain why he called Shoko. He said he knew Iris was stabbed when he overheard Boss talking about the body. He also gave Date an alibi for the time of Date's murder, which matched what the bodyguards said. After some time, Date received a call from CSI. They had been unable to find the body Date reported at the warehouse.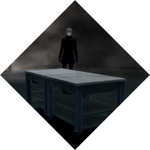 Date arrived at the warehouse to find the body missing. Aiba guessed that the body may have been moved between Date's report and CSI's arrival. Date, wondering if Iris might still be alive, rushed out of the warehouse.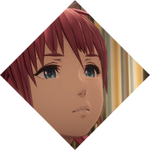 Date rushed in to find Iris alive and well, along with Mizuki. Iris told him Mizuki had ended up staying over with her, and asked Date if anything was wrong. Date believed the world had somehow changed.
Trivia
[
]
Etymology
[
]
The name kyuusAI (救濟) translates to "Salvation," which is in reference to Iris Sagan seemingly being miraculously brought back to life after So's Somnium concluded.
[

]