Day 6: Wednesday -sanpAI- (6日目:水曜日 -参拝-, 6-Nichi-me: Suiyōbi -sanpAI-, lit. Day 6: Wednesday -Worsip-) is a chapter featured in AI: THE SOMNIUM FILES.
It is the fifteenth and final chapter of the Mizuki Route. It covers Kaname Date's recovery and the resolution of the New Cyclops Serial Killings.
Case File Synopsis
[
]
Mizuki succeeded in bringing back Date. After the Psync, Mizuki jumped into Date's arms for a hug...or was that a punch?
Date fully recovered from his injury. Aiba was also repaired. They visited the Ikume Shrine to pray. Investigation HQ was of the opinion that So Sejima was the culprit behind everything, but Date had his doubts. Mizuki also claimed to have seen her school teacher and So Sejima speaking with each other. It was certainly suspicious, but Mizuki would not elaborate. Fulfilling an old promise, Date agreed to take Mizuki to eat her favorite food.
Story Summary
[
]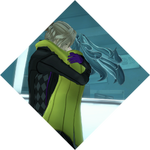 ABIS HQ, Psync Room, Wednesday

[

]
Mizuki welcomed Date back after the Psync was successful.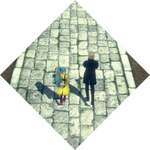 Date, Mizuki, and Aiba visited the shrine together. Mizuki told Date that Ota had been discharged from the hospital, but Iris had not fully recovered. She also mentioned seeing her homeroom teacher talking to So Sejima on Tuesday after her questioning. Aiba confirmed that she remembered everything before she was shot, since her data was wirelessly backed up to the cloud. Date discussed the case with Aiba: So was determined to by the New Cyclops Killer, and no crimes of the same MO were reported since his death. However, Date was unsatisfied with his unclear motive.
Date finally fulfilled his promise to take Mizuki out for food, and the three left the shrine together.
Trivia
[
]
Etymology
[
]
The name sanpAI (参拝) translates to "Worship," and can also be directly translated as the phrase "visiting/worshiping at a shrine," which is all in reference to Kaname Date, Aiba, and Mizuki Okiura's visit to the Ikume Shrine and their prayer during their visit.
General
[
]
In the English localized version of this game, Mizuki refers to her homeroom teacher as her "mom's best friend." However, this appears to be an error, as in the Japanese version, Mizuki refers to her as her "best friend's mom" instead.
[

]