Jurassic World: Dominion Dominates Fandom Wikis - The Loop
Play Sound
Day 4: Monday -syougAI- (4日目:月曜日 -傷害-, 4-Nichi-me: Getsuyōbi -shōgAI-, lit. Day 4: Monday -Injury-) is a chapter featured in AI: THE SOMNIUM FILES.
It is the eleventh chapter featured in the Mizuki Route. It covers the events immediately following Kaname Date's Psync with Ota Matsushita.
Case File Synopsis
Ota's Somnium... With the six minute time limit approaching, Date refused to stop, so close to seeing the culprit's true identity. Boss ordered Pewter to force shut down, pulling Date out of the Psync.
Date argued with Boss, claiming that he could have seen the culprit's face if he were allowed to continue the Psync. Boss countered by saying that that would only be possible if Ota saw it himself, and Ota claimed that he did not. However, they did determine that the polar bear's leg was injured during the crime. Boss ordered Date to continue the investigation, but Date suddenly passed out.
Story Summary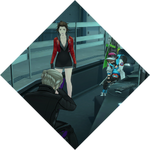 ABIS HQ, Psync Control Room, Monday
Boss scolded Date for cutting it too close to the six minute time limit. Pewter assured them that both Ota and Date were fine, and Date began asking Ota questions. Ota claimed he did not see the person in the polar bear costume, which matched the events in his Somnium. Ota explained that he had the knife at the hospital because he was scared the killer might come finish him off. He also confirmed that the crane hook at the cold storage warehouse got stuck in the polar bear's leg. While discussing how to look for someone with a wounded left leg, Date suddenly passed out.
Trivia
Etymology